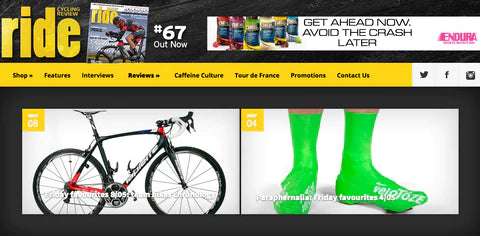 veloToze makes Australia's Ride Cycling Review's Friday Favourites list
Each week Ride Cycling Review (www.ridemedia.com.au) the leading Australian cycling review e-magizine reviews hot new products. This week veloToze made their Friday Favourites list and here's their first impression. 
"When told by the supplier that these are like, "swimming caps for your feet," a number of images sprung to mind. None of these ideas mimicked the simplicity of veloToze waterproof shoe covers which are surprisingly easy to slip into. They are inexpensive and could even be worn underneath your 'warm' overshoes to provide another layer protecting your feet from the elements".
We couldn't agree more fellows, although we do recommend thicker socks instead of a second pair of shoe covers if the weather is nasty out. veloToze will do the hard work and keep both water and wind away from your feet, allowing your feet to stay warm, dry and comfortable. We recommend riders get 2 pairs - 1 pair of Short for cool, morning rides, and Tall for wet, colder rides or time trials. veloToze cycling shoe covers come in a variety of colors and sizes range from small to XL.  
Link to full article - http://www.ridemedia.com.au/ride-features/paraphernalia-friday-favourites-405/