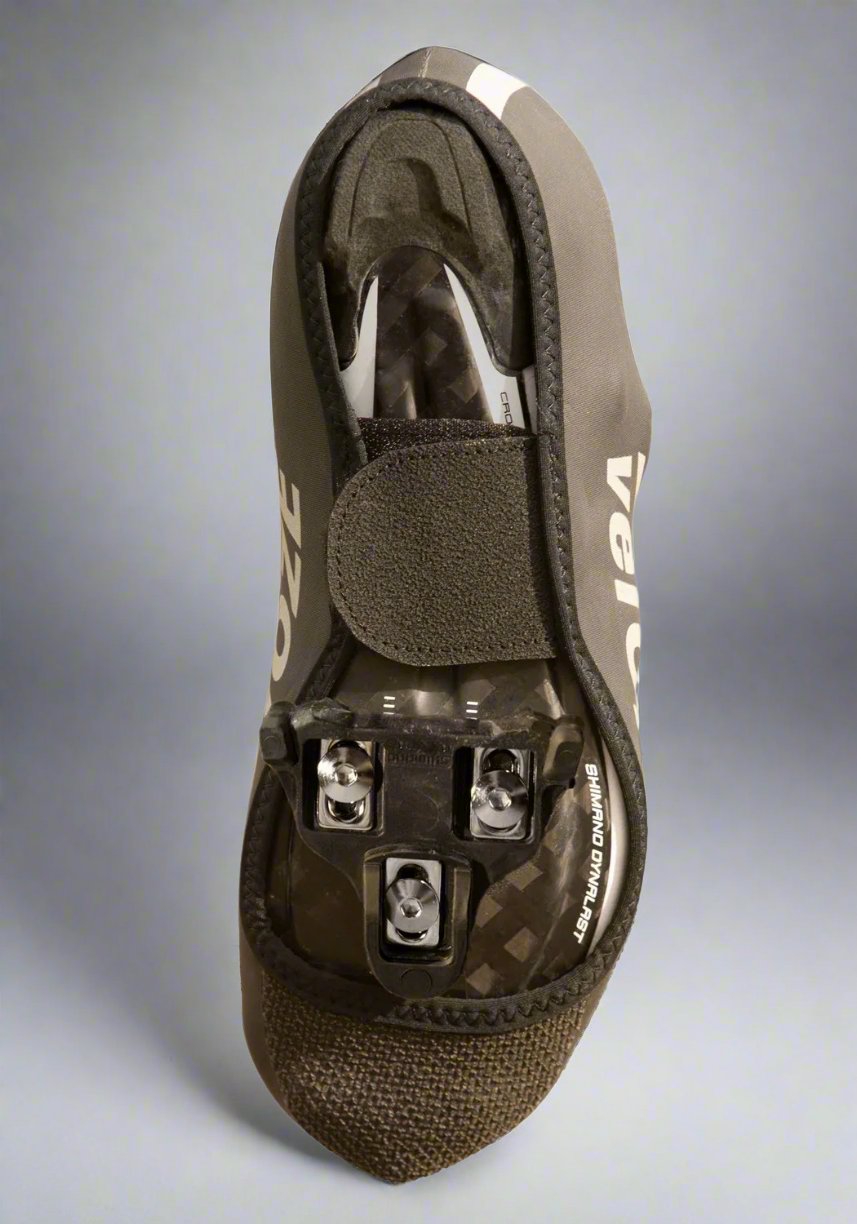 Neoprene Shoe Covers (Waterproof Cuffs Included)
Sale price

$ 68.00
Regular price

$ 0.00
(/)
---
Defying the Elements for Unrivaled Comfort and Weather Protection
Elevate your winter cycling experience with veloToze Neoprene Shoe Covers featuring Waterproof Cuffs. Engineered to conquer cold, inclement weather both on and off the road, these shoe covers offer the perfect fusion of waterproof, windproof neoprene for exceptional warmth, dryness, and comfort, no matter the challenges nature presents.
Uncompromising Protection from Top to Bottom: The ultimate shield against rain, our Waterproof Cuffs are designed to prevent moisture from infiltrating from the top. Crafted from our exclusive flexible, waterproof material, these cuffs create a dependable seal around your legs, ensuring your feet remain dry, even in the most demanding conditions.
Not All Neoprene is Created Equal: Our material comprises 2.5 mm thick, truly waterproof neoprene with blind-stitched and welded seams, guaranteeing superior waterproofing. It provides a snug, form-fitting profile without unnecessary bulk.
Reflective Stripes and Logos: Enhancing your visibility in low-light conditions, we've incorporated reflective stripes at the rear and reflective logos on the sides of the shoe covers.
Innovative Zipperless Design: Our patented design eliminates the need for zippers, utilizing reinforced straps under your shoes for a secure, hassle-free fit.
Kevlar Toe Protection: To safeguard your shoe covers from wear and tear, both on and off the road, our shoe covers are equipped with a robust Kevlar toe pad.
Elevate your cycling journey with veloToze Neoprene Shoe Covers featuring Waterproof Cuffs – the ultimate blend of comfort, protection, and performance, defying the elements for an uncompromised riding experience regardless of the forecast.
Designed for -5°C/23°F in dry, sunny weather to 15°C/59°F in wet, rainy weather.
INSTRUCTIONS
Put on sock then pull shoe cover on over sock
Ensure the closure at bottom of the shoe cover is open
Put on a cycling shoe and fasten Kevlar straps under the shoe
Adjust around cleat and heel pad. Ensure no part of the shoe cover is over the cleat or heel pad
Pull on the veloToze Waterproof Cuff and place the top end against your skin and the bottom end over the top of the shoe cover.
MATERIALS

Shoe/Ankle Area: 80% Neoprene, 20% Nylon
Reinforced Toe: 100% Kevlar
Waterproof Cuffs: 100% Natural Rubber Latex
Kevlar is a registered trademark of DuPont
CARE INSTRUCTIONS
Hand wash with cold water, air dry.
Do not bleach. Do not iron.
See veloToze Waterproof Cuff for care instructions.
PRO TIPS
In rain conditions, use with veloToze Waterproof Cuffs.
Place Waterproof Cuffs against the skin above the shoe covers. If placed on leg warmers or other fabric, water can seep into shoe covers from wet fabrics.
To prevent water from entering from the bottom of the shoe, remove the insole and place tape over the vent opening.
CAUTION: THE WATERPROOF CUFF CONTAINS NATURAL RUBBER LATEX WHICH MAY CAUSE ALLERGIC REACTIONS. 
Neoprene Shoe Covers (Waterproof Cuffs Included)
Sale price

$ 68.00
Regular price

$ 0.00
Choose options