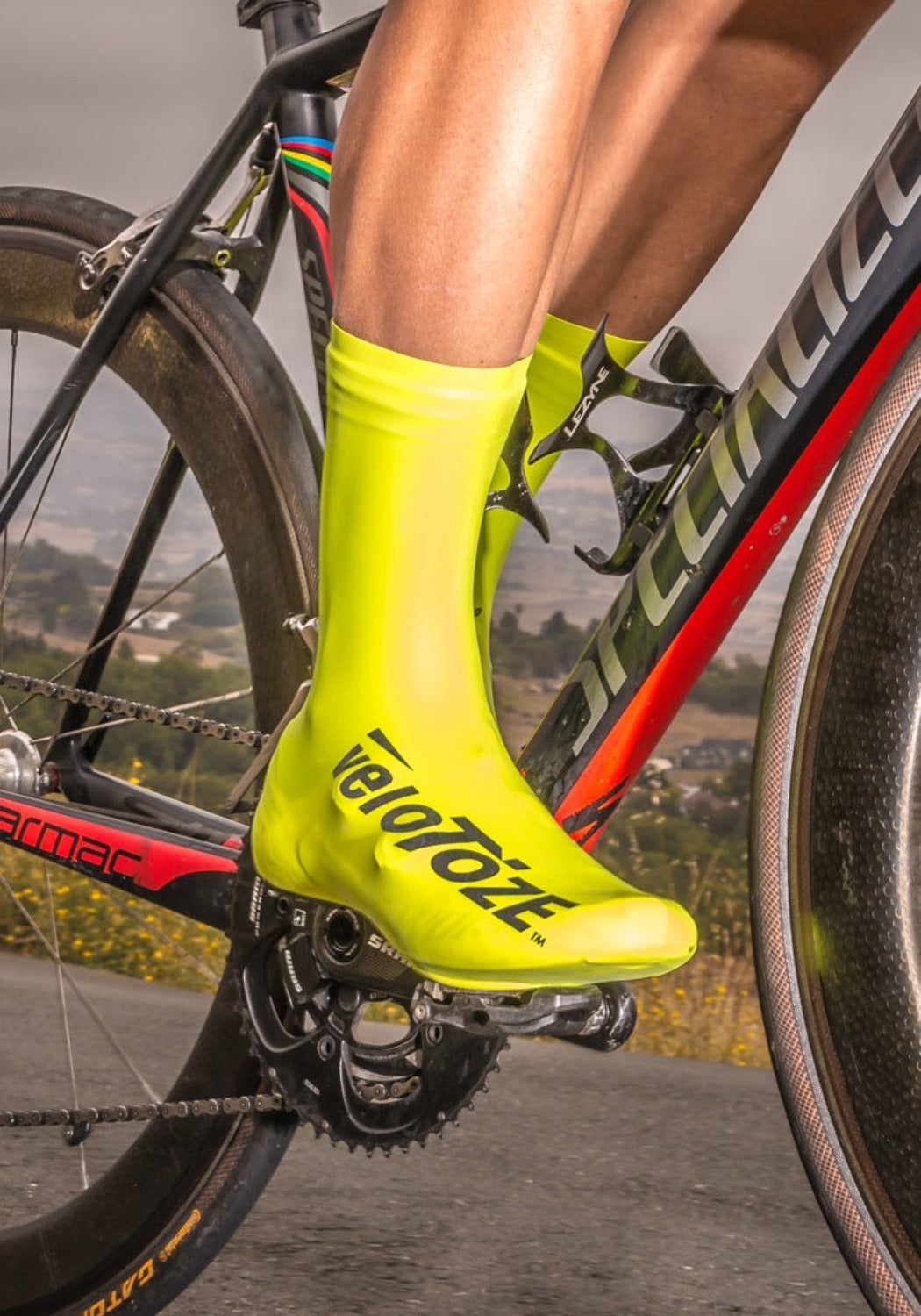 Tall Shoe Covers - Road 2.0
Sale price

$ 20.00
Regular price
(/)
---
We have totally redesigned our road cycling shoe covers to make them more durable and easier to get on. They are still made from our signature waterproof and windproof lightweight material, now reinforced on the bottom and toe areas so they last longer. Unlike shoe covers made from other materials which retain water when soaked, rain simply glides off veloToze Shoe Covers. 
veloToze Tall Shoe Covers are designed for road cycling on cold and rainy days, they are also extremely aerodynamic as windproof material forms a smooth snug fit over the dials and buckles of your cycling shoes to minimize aerodynamic drag. Wind tunnel testing showed 4.47 watts of power saving at 40kph (+5˚ yaw angle). See results in veloToze Aero-vantage.
Whether it's race day, TT day, training day, or just another commute day, veloToze 2.0 Tall Shoe Covers got you covered.
For a limited time, buy 1 pair get 2nd pair 20% off.
FEATURES AND BENEFITS
Waterproof: designed to form a tight seal with your calf, to keep your feet and shoes dry

Windproof: windproof material keeps your feet warm even on cold mornings or winter rides (5C/40F to 16C/60F)

Reinforced: reinforced on the bottom and in the toe area for increased durability

Lightweight: made of a flexible, lightweight material that doesn't retain water when wet

No zippers or velcro straps: innovative design has no vulnerability points like zippers or velcro

Aerodynamic: smooth, flexible material creates a snug aero fit

Compact: easily fits in a jersey pocket or saddle bag
INSTRUCTIONS
Warning: Watch the installation video prior to use. The shoe cover may tear if you do not FIRST put on the shoe cover, then the shoe. 
Put on sock 
Pull shoe cover on over sock BEFORE wearing cycling shoe
Put foot through large cleat hole, and pull shoe cover up and around the ankle
Put on a road cycling shoe
Pull the shoe cover down over the heel of the shoe FIRST, then pull over the toe
Adjust around the ankle, cleat, and heel pad. Ensure no part of the shoe cover is over the cleat or heel pad.
Note: Pull the top of the shoe cover over socks or under the leg warmers. The top of the shoe cover needs to be against your skin or water may enter the shoe cover. 
MATERIALS

 CARE INSTRUCTIONS

To clean shoe covers, wipe with a wet cloth or rinse with water. Do not put shoe covers in a clothes washer
To dry, hang shoe covers over a hanger or ledge or wipe with a dry cloth. Baby powder can be applied to prevent sticking. Do not put shoe covers in a clothes dryer
PRO TIPS
To prevent water from entering from the bottom of the shoe, remove the insole and place tape over the vent opening
Avoid contact with sharp objects
Do not store in direct sunlight 
Ensure shoe covers are pulled up over socks and are under legwarmers to create a water-tight seal
CAUTION:  THIS PRODUCT CONTAINS NATURAL RUBBER LATEX WHICH MAY CAUSE ALLERGIC REACTIONS. 
Click here for our FAQs. 
Tall Shoe Covers - Road 2.0
Sale price

$ 20.00
Regular price
Choose options